In my 2012 TEDx talk on organ donation awareness, I presented the analogy of 13 jumbo jets crashing every year to emphasize the number of people dying on the transplant list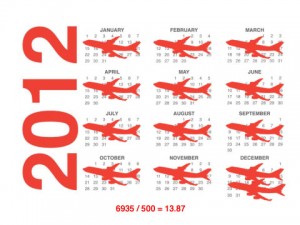 while waiting for a donor organ to become available. That statistic, between 18 and 19 people dying on the list every day because there are far more people waiting than there are available organs, has remained constant since 1999. As I prepared for my keynote address at Donate Life America's Annual Meeting this year, Donate Life America's CEO David Fleming mentioned to me that there is something curious about this statistic (a point actually brought to David's attention by his 12 year old son): how can it be that more people don't die each year waiting if every year more and more people are added to the transplant waiting list but the number of transplants performed remains relatively flat?
According to the Organ Procurement and Transplantation Network (OPTN) database, 16,922 transplants (from both living and deceased donors) were performed in 1995 and 27,577 were performed in 2013. The waiting list over that same time span grew from 33,167 to 122,949. Looking at the "Waitlist Removal" report (see figure), we see that the number of people who died on the waitlist while waiting for an organ increased from 3,510 in 1995 to 6,222 in 2013—roughly a 2 fold increase. But the number of people who were removed from the waiting list because they were "too sick to transplant" has increase 7 fold over the same period of time (686 in 1995 to 4,919 in 2013).
Now, being removed from the list because you are "too sick to transplant" is generally not a good sign. For people with end-stage liver, heart, or lung failure, it usually means that they will die in a short period of time. For kidney failure patients, even though the option of continued dialysis exists, life expectancy is considerably reduced. There are certainly some people who can get back on the list because they are no longer "too sick" (for instance, they recover from a urinary tract infection or a bout of bacterial peritonitis) but they are in the minority.
The point is that the number of people who die each year before they can have a transplant is really closer to 11,141. That's 30 people dying every day while waiting. That's 22 jumbo jets crashing every year and there are no survivors.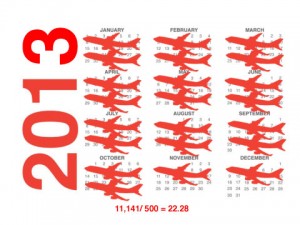 There are so many things we can do and that we are doing right now to make this situation better, from encouraging participation in organ donor registries to supporting preventive health initiatives to supporting research in donor organ preservation, revitalization, and engineering. It's important to realize that 56 jumbo jets land safely and successfully each year (28,000 transplants), which is a remarkable achievement. We should, however, always strive to do better!