I finally made it to Jaipur, Rajasthan to begin my task of starting a deceased donor liver transplant program in the Sawai Man Singh (SMS) Government Hospital. The State Government, led by Chief Health Minister Rajindra Rathore and Health Secretary Mukesh Sharma, is 100% behind this mission, issuing all of the necessary Government Orders and dedicating crores of rupees (hundreds of thousands of US dollars) to make things work. The SMS Administration, led by Drs. Subash Nepalia (Principal) and Man Prakash Sharma (Superintendent), and the surgical staff, led by Dr. Sanjay Sharma, are all enthusiastic and eager to start. The local transplant NGO (non governmental organization), the MOHAN Foundation Jaipur Citizen's Forum (MFJCF), is passionate about this cause with a cadre of devoted volunteers with significant experience and success with the Eye Bank Society of Rajasthan for cornea transplantation.
So everything's in place and we're ready to rock. Piece of cake, right? Well, consummating this vision will be no easy task.
First of all, liver transplantation is not just about the surgery itself. Of course, we must ensure that all of the necessary equipment, supplies and technical expertise are put in place, but that's just one of many steps. Ideally, an entire interdisciplinary team that is dedicated to quality patient and family care needs to come together. This includes Surgeons, Hepatologists, Anesthetists, Intensivists, Transplant Nurse Coordinators, Diagnostic Radiologists, Interventional Radiologists, Pathologists, Infectious Disease Specialists, Nurses, Social Workers, Psychiatrists, Pharmacists and Nutritionists.
At its very core, a well functioning liver transplant program requires a dedicated surgical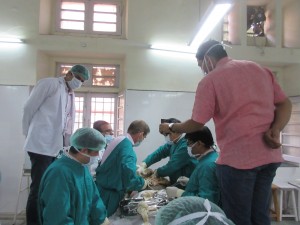 team working closely with Transplant Hepatologists and a Clinical Transplant Coordinator. The surgical team must be well versed in performing organ recovery surgeries, liver transplants, and caring for patients before and after their surgeries. The Transplant Surgeon has to understand the physiology of liver failure, the immunology underlying organ rejection, the complications associated with liver transplant surgery, and all of the antirejection and opportunistic prophylaxis medicines. Primary responsibility for appropriate donor/recipient matching and successful perioperative and immediate postoperative care lies with the surgeon.
The Transplant Hepatologist is absolutely essential, providing patient referrals for transplant consideration, caring for patients while they are waiting on the list, managing both medical and surgical complications postoperatively, and providing long term follow up for all liver transplant recipients. They too, like the surgeon, must be expertly versed in problems associated with liver failure, immunology, opportunistic infections, and liver transplant postoperative complications. The Surgeon and Hepatologist should see all of their patients together on a daily basis and be in constant contact with each other.
The Clinical Transplant Coordinator (CTC) is different from the currently understood role of a Transplant Coordinator (TC) in India. The latter is a legally mandated hospital employee who organizes all aspects of the organ donation procedure, from organ allocation to patient family consent to organ recovery and transport logistics. The CTC is a specialized nurse who works daily with the Transplant Surgeon and Hepatologist to help put liver transplant candidates on the waiting list and know everything about the patients and their families from that point then through the surgery and beyond. This role is necessarily distinct from that of the TC focusing on the organ donation and recovery process.
Transplant is a life long commitment for the recipient, the recipient's family, and the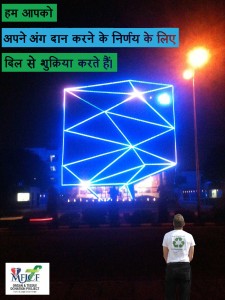 Transplant Team. Attention must be paid to all aspects of this process (medical, surgical, social, financial) in order to achieve optimal outcomes. As such, more team members are required. Ideally, a dedicated Transplant Social Worker will know the details of each patient and each family and will be able to assist with issues such as rehabilitation facility placement (if needed) and patient compliance with postoperative medicines and clinic appointments. A Financial Coordinator assures that sufficient funds are available before and after transplant. A Transplant Psychiatrist is often needed to address issues of psychological suitability for transplant and relapse prevention in the case of liver transplantation for alcoholic cirrhosis.
The Hospital Administration must be solidly behind the Liver Transplant Program, with defined Policies and Procedures and commitment to providing sufficient funds for all aspects of the Program. This point cannot be understated. By law, each Transplant Center must have an appointed Brain Death Certifying Committee, a Transplant Coordinator for organ recovery purposes, and must regularly report all aspects of transplant activity–including short term and long term transplant outcomes–to the National Organ and Tissue Transplant Organization (NOTTO) and the Rajasthan Network of Organ Sharing (RNOS). Thus, the Administration must also be willing to invest in an internal transplant database and a Transplant Data Manager.
The cooperation of many other medical specialists is paramount as well. A well trained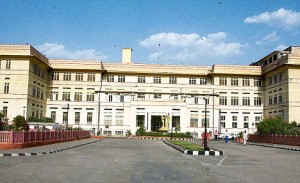 Nursing Staff—in the Operating Theater, ICU, and ward—is of course a critical necessity. Neurosurgeons, Neurologists, and Critical Care Intensivists must feel comfortable with brain death certification and maintaining potential donors in the ICU to optimize donor organ quality at the time of recovery. Radiologists (both Diagnostic and Interventional) must be available 24/7 to provide services on transplant candidates and transplant recipients. Pathologists should feel comfortable in diagnosing rejection, infection, and fatty liver on biopsies and sometimes be available at odd hours in the case of organ recoveries or patient emergencies. Infectious Disease experts familiar with transplant-associated opportunistic infections should also ideally be available.
A dedicated Transplant Pharmacist who is familiar with immunosuppressive drug dosing and drug-drug interactions should be available to round with the Transplant Surgeon and Hepatologist on a daily basis. Finally, it is often helpful to have the input of a Transplant Nutritionist to advise on dietary recommendations before and after transplant.
Can all of this happen in the context of the Indian Government Health Care System? Many would say absolutely not, given the inherent inefficiencies in any bureaucratically driven endeavor. But I think it is certainly possible. If the right team of professionals devoted to the cause can be assembled, if all of the necessary policies, procedures and protocols can be put in place, and if appropriate measures are taken to properly sensitize and educate other medical professionals about the miracles of transplantation and organ donation, then we can succeed. We must succeed if we are dedicated to saving hundreds of thousands of lives by offering liver transplant to every Indian citizen.