"We Love You for Signing Up to Be an Organ Donor"! This bLifeNY campaign on FaceBook came about after I attended TEDxFlourCity 2013 a few weeks ago and saw the inspiring story of Ronny Edry. He is an Israeli graphic artist who started posting pictographics on FB with pictures of everyday people and the message "Iran We will never bomb your country We love you". This heartwarmingly viral campaign is described in his amazing TED talk.
We've noticed that images posted on our FB page always get many more views than text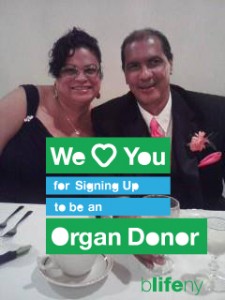 (alas, wish more people would read my blog!). So we designed a template based on Ronny Edry's "We Love You" campaign and asked people to send in their photos for posting on the bLifeNY FB page and tweeting via @bLifeNY.
We invite not just organ donors, organ donor families, and transplant recipients to participate, but also anyone interested in and supportive of organ donation. #WeLoveYou is about encouraging the conversation, increasing visibility in our every day lives, and "normalizing" the idea of organ donation. It's okay to talk about and think about organ donation. It's important to talk about and think about organ donation.
This post will serve as a repository for our "We Love You" campaign. Every time we drop a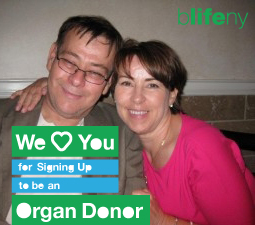 pictograph on FB, I will add it here as well. We invite you, your friends and loved ones, and anyone who is inspired to support the noble, challenging, and life saving cause of organ donation to participate. Email me you pics (cbarrymdphd@gmail.com) or send to our FB page.
We love you for supporting organ donation awareness! Register to be a donor in New York State or in your own state.
And thank you Ronny Edry! Your brilliant campaign for peace is saving lives in unanticipated ways. We Love You…