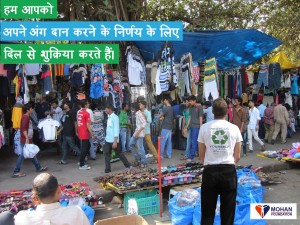 So the clock is ticking down and I'm almost ready to embark on my great adventure: a year-long sabbatical volunteering for the MOHAN Foundation to help increase deceased donor transplant activity throughout India. No small task, right? So before I launch in to what I think I should be doing there, I have to say a few words about my decision to crowdfund my trip.
I had always been reticent to engage in crowdfunding from the get-go. "Vanity begging" it seemed to me. But realizing that my salary would decrease to $0 for an entire year and that the opportunity existed to raise funds for the noble cause of transplant and organ donation awareness in India, I thought "why not?"
I am so grateful that my friends have donated so much. Not only will I be able to travel to and from India (economy class), but I will have a roof over my head and plenty to eat (food is not only delicious in India—it's cheap!). In addition, thanks to the generosity of everyone, MOHAN Foundation will have hard cash to spend on professional education and public outreach specifically related to increasing deceased donor transplant activity throughout India.
For deceased donor transplantation programs in India to become viable and robust, much work needs to be done. However, many of the critical elements for success are already in place. The reasons for promoting deceased donor transplantation programs include increasing the opportunities for transplant to all Indians regardless of socioeconomic status and decreasing the need for exploitative and illegal organ trafficking. The challenges include overcoming negative attitudes toward transplantation among the Indian public, educating medical professionals about the efficacy of transplantation and how to manage potential deceased organ donors, and how to fund such programs given the constraints of Indian medical economics.
Most kidney and liver transplants in India are performed using organs from living donors (hearts, lungs, corneas, and pancreata must come from deceased donors). For living donor transplantation, the Transplantation of Human Organ Act (THOA) mandates that donors be close relatives or those having  "affection and attachment" to the recipient. In general, strict policies and procedures are followed to assure that organs are not being purchased by the recipients, but even to this day, news of illegal kidney trafficking in India emerges. The Indian public, therefore, looks upon transplantation in general with suspicion.
Even if such illegal activity did not exist, most Indians perceive transplantation as being available to only those who can afford it. In the United States, the transplant recipient's insurance pays for the donor's surgery and medical expenses. So if you have insurance, regardless of your socioeconomic status, you can get a transplant (note, however, that those who can not afford insurance are shut out of this system). In India, the recipient also pays for the donor's expenses, but this is usually out of the recipient's pocket, given the relative paucity of medical insurance in India. So the perception is that the recipient is buying the donor organ even when everything is above board and legal.
I think the two biggest challenges to acceptance of deceased donor transplantation in India are economic and social barriers.  The basic economic question is how to fund an infrastructure that allows nationwide sharing of organs, equitable allocation of organs, and transparent measurements of performance for all participating institutions that lead to a culture of accountability for outcomes. The social challenge lies in assuring the Indian public that a national transplant system—once established—is as fair as possible, engages in no favoritism, and effectively polices any illegal activities related to the field.
India needs to build a transplant infrastructure in which all hospitals engaging in transplant and donor organ recovery cooperate to achieve maximum efficiency of deceased donor organ allocation and outcomes tabulation. In the US, we have the United Network of Organ Sharing (UNOS), a non-profit established in 1984 whose mission is to "to advance organ availability and transplantation by uniting and supporting its communities for the benefit of patients through education, technology and policy development." UNOS administers the only Organ Procurement and Transplant Network (OPTN) in the US and maintains the national transplant waitlist. Among its members is every Organ Procurement Organization (OPO) and hospital that performs transplants throughout the country. OPOs are independent organizations that oversee regions of transplant activity, coordinating organ offers and allocation to individual transplant centers according to UNOS rules. For instance, New York State has four OPOs, each servicing between two to ten transplant centers. In addition, there is Donate Life America, an independent offshoot of UNOS devoted to transplant and organ donation advocacy.
All of this activity in the US is funded by transplant recipients' insurance, government support, private industry partnerships, and philanthropy. The funding stream in India will necessarily have to be different. Currently, all organ donation advocacy efforts are run by volunteers and private philanthropy. Transplants and organ recoveries are paid for by the transplant recipients and, to a lesser extent, the Indian Government, which provides free or low cost health care to all citizens. Increased governmental support, robust  public-private partnerships, and more generous philanthropy will all be needed in order to fund a viable transplant system in India. Quite a challenge indeed.
There are a number of organ donation advocacy non-governmental organizations (NGOs) in India that also assist with organ allocation, but there is no unified entity. Assembling a national transplant infrastructure will be a major challenge for the government and all interested parties. Likely, the systems will start locally depending on transplant centers and hopefully will organically coalesce over time. This will take a lot of cooperation between transplant hospitals and NGOs, but will also require commitments from local governments to assure that organ recovery surgeries can be performed at hospitals other than the transplant centers themselves.
My impression of the Indian public's perception of transplantation and donation is that the idea is noble but the system is currently not entirely fair. As far as public acceptance of the idea of organ donation, this appears not to be such a problem. Most Indians embrace the notion of donation when appropriate education is provided. The real challenge is getting people to trust the system. This can only happen with the establishment of an efficient and transparent organ allocation system in which all interested parties are required to participate and all are held accountable for following agreed upon policies and procedures. In tech-savvy India, it should be entirely possible to quickly build a national database that tracks all transplants, organ recoveries and allocation, and transplant center outcomes.
This is all easier said than done, but it can and must be done. Well, I hope that I will be able to help in some small way. I'm ready!