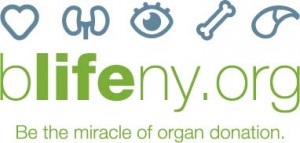 We at bLifeNY believe strongly in creating appropriate environments for thoughtful consideration of organ donation. Think of the two most common places where organ donation is considered: the DMV and the ICU. Neither is the best place or circumstance to make such a serious and highly personal decision, right? Linking estate planning with consideration of organ donation creates an ideal environment on many levels.
Most importantly, when you visit your attorney or financial planner to discuss such things as living wills, powers of attorney, and health care proxies, you're already in a serious state of mind about what you want to happen when you're gone. You're thinking about your family's future, your wishes regarding end of life care, and your legacy. Why not also contemplate whether you would gift your heart, liver, kidneys, lungs, pancreas, corneas, or other tissues to someone in need after you pass? You may decide no. You may decide yes. Simply considering this issue is an act of profound compassion and maturity.
Another benefit to this environment is that you're discussing donation with someone you trust and respect. Your estate professional doesn't need to be an expert on transplantation and organ donation. She or he need only introduce this option and emphasize that by consenting to donation, the lives of many others could be favorably impacted. Links to other more in depth and authoritative resources could be shared with those who are interested in learning more.
An estate planning organ donation awareness environment also provides an opportunity for one to take definitive action. Register right then and there if you like. Put it in writing in your will so that your family and other beneficiaries have clear instructions. Or both. Although the vast majority of Americans favor organ donation, only about 40% nationwide are registered to become donors. Providing an immediate opportunity to register when the contemplative environment is ideal easily transforms intent into action.
Most of the estate planning attorneys and financial planners we have spoken with are very enthusiastic about routinely incorporating a brief discussion on organ donation into their conversations with clients. It makes sense. It's a chance to do a good thing over and over again. But we might be too busy. We might feel uncomfortable. We might be afraid. An alternative to a heartfelt conversation would be simply providing an information sheet in the literature folder distributed to all clients. Here is an example of bLifeNY's educational intervention that we hope to distribute widely to our local estate planning professionals: Estate Planning Organ Donation. Key elements to this document include introducing the idea and important facts about organ donation, links to deeper sources of information, and a registration form for those who are moved to act immediately.
Why not try something like this in your town?
This estate planning organ donation educational intervention will not reach everyone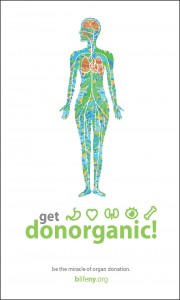 (only one in four Americans has a living will), but global acceptance of the "1. Living will 2. Power of attorney 3. Organ donation" concept would have a significant impact in our society. Entire families would know an individual's intention. Others might be favorably influenced to act similarly or at least learn more about donation. Discussions on organ donation would become more embedded and "normalized" into our culture.
Oh, and yes, people's lives would be saved.