This month we are celebrating organ donors, donor families, transplant recipients, and the success of transplant medicine with Donate Life Month. Finger Lakes Donor Recovery Network has produced two great new videos:
The URMC Center for Transplantation River Run takes place this Sunday April 22 to raise awareness on organ donation and to raise money for the transplant patient needs fund. The event starts with a proclamation from the Monroe County Legislature, delivered by Josh Barouth,  to celebrate donors, their families, and recipients.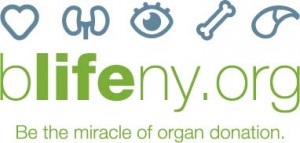 bLifeNY.org continues to flourish on many fronts. Two student organizations are being established: bLifeUR at the University of Rochester and bLifeRIT at Rochester Institute of Technology. On May 5th, bLife will have a booth at the Imagine RIT festival. We will be encouraging people to recycle themselves!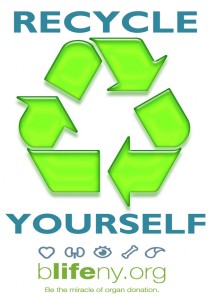 Also, Matt Randall, our Brighton High School student bLifeNY member, recently wrote a nice article in the BHS newspaper. Thanks Matt!
Finally, listen up for Rob Kochik (Executive Director of Finger Lakes Donor Recovery Network) and I on WXXI's  radio show Healthy Friday on April 20 at noon. We will talk about, can you guess?, organ donation awareness.