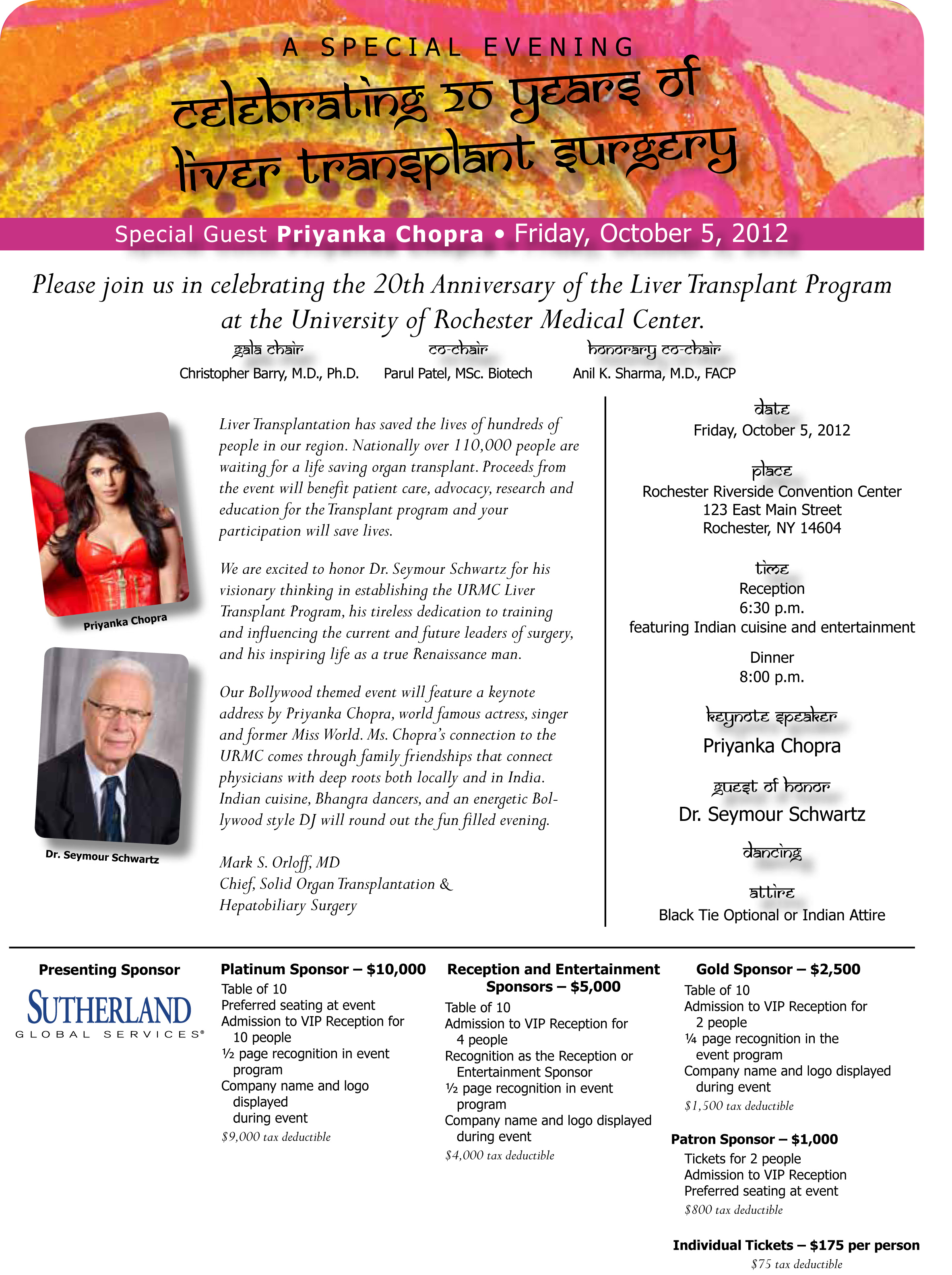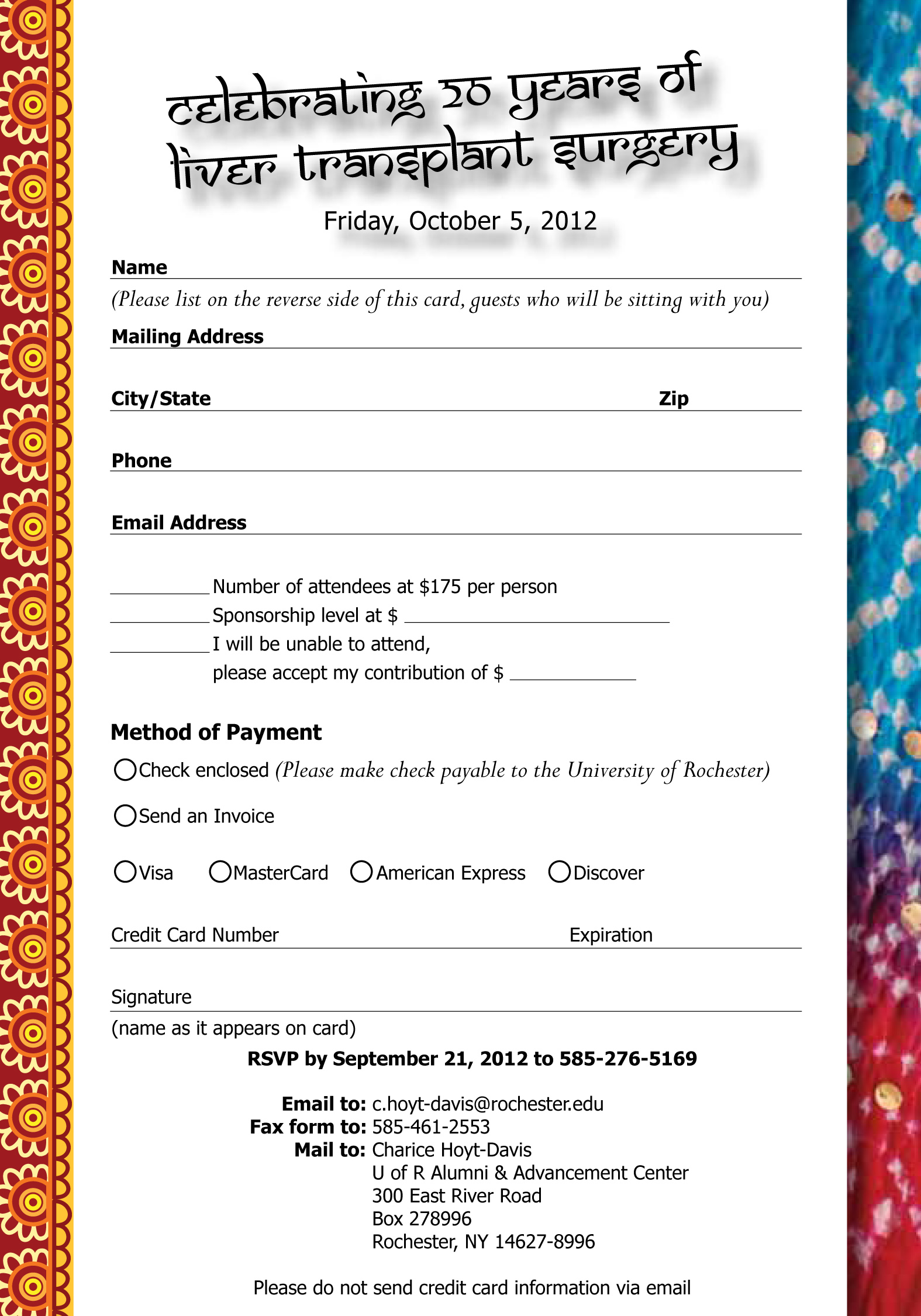 The University of Rochester Medical Center's Center for Transplantation will be celebrating the 20th anniversary of the liver transplant program on Friday October 5th, 2012. There will be a VIP Reception from 6-7 pm and the main event will start at 6:30 pm at the Riverside Convention Center in downtown Rochester, New York.
Our keynote speaker and special guest will be Bollywood superstar Priyanka Chopra. Please note that Ms. Chopra will not be performing for this event. She will deliver an address promoting organ donation awareness.
General tickets will be $175 per person ($75 tax deductible). Higher sponsorship opportunities are available as described above.
Become a Table Captain to ensure your group of 10 sits together at the gala. The role of a table captain is to fill all the seats at your reserved table. To recognize your role as table captain, your name will be listed in the evening's event program. Money for your table is due on Friday, September 21st. by 4:30pm.
Questions? Contact Charice Hoyt-Davis via eamil c.hoyt-davis@rochester.edu or 585-461-2553.
Send check payable to University of Rochester to:
Charice Hoyt-Davis
U of R Alumni & Advancement Center
300 East River Road
Box 278996
Rochester, NY 14627-8996
To pay by credit card, contact:
Charice Hoyt-Davis at 585-461-2553
This year we celebrate the 20th anniversary of the liver transplant program at the University of Rochester, led by Division Chief Dr. Mark Orloff and originally founded by Dr. Seymour Schwartz. We are the only liver transplant program in upstate New York and since beginning 20 years ago, we have had the privilege to perform over 1500 liver transplants with remarkable success rates. The amazing success of transplant has ironically led to our greatest challenge: that is, far more people are awaiting transplants than there are donor organs available. We decided to highlight this challenge as the major theme of our 20th Anniversary Gala on October 5th, 2012.
A remarkable, almost magical set of circumstances evolved during our planning of the gala. We thought it would be fun to throw a Bollywood themed party, in part to celebrate the significant contributions of our Indian colleagues at the U of R to excellence in medicine and research, but also Indians know how to have fun and a Bollywood party would simply be a blast. As a division, we would not be able to achieve such clinical and intellectual excellence without the contributions of our colleagues such as our transplant surgeon Dr. Randeep Kashyap, our transplant hepatologists Dr. Ben Maliakkal and Dr. Gopal Ramaraju, the chief of gastroenterology Dr. Vivek Kaul, our anesthesiologist Dr. Ashwani Chhibber and imaging scientist Dr. Vikram Dogra.
As we continued planning, we realized that one of our patients, Dr. Ashok Chopra who came all the way from India specifically to URMC to receive his care, had quite a famous daughter. Wouldn't it be wonderful and powerful to have Priyanka Chopra deliver a keynote address promoting organ donation? Her fame and her social conscience to help make the world a better place in so many ways could send an important message to people around the world that organ donation is a miraculous endeavor and that we shouldn't be so uncomfortable to at least think about it. Organ donation, after all, touches the lives and saves the lives of hundreds of thousands of people.
So we asked her and she graciously and immediately said yes, she would love to have an opportunity to speak about such an important cause. It's a difficult cause, because so many of us feel uncomfortable facing such things. And her willingness to speak up demonstrates true courage and forward thinking on her part. We hope to continue this work in India with the help of the transplant surgeons we have trained here and who have returned home. Our former fellows are positioned to become leaders in the emerging field of deceased organ donation in India. It won't be easy, we're talking about cultural change. But with the support of the Chopra family and our connections to transplant in India, we hope to save many more lives in India through this initiative.
So join us on October 5th for what should prove to be the biggest party of the year in Rochester. Funds raised will go to URMC Transplant's 4 Pillars of Care: patient Care, social Activism (organ donation awareness), Research, and Education.
Follow bLifeNY on Twitter (@bLifeNY).
Friend us on FaceBook: bLifeNY