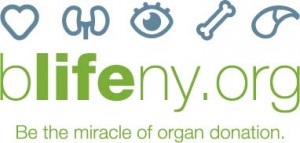 The New York Alliance for Donation (NYAD) is a not-for-profit organization dedicated to increasing organ donation rates in New York State (just like bLifeNY!). New York is currently 48th lowest in the nation in terms of eligible citizens registered to be organ and tissue donors (only 20%), but it has the 3rd highest need for transplantable organs. Every 13 hours, one New Yorker dies on the list while waiting for a transplant. A major reason for this abysmally low registration rate is that it is difficult to actually register here. You need to go to the NY State Donate Life Registry, find the form, print it out, fill it out, then mail it back to them! Why not sign up online via an electronic registry?
Why not indeed. New York Bill S.5046 was recently introduced by Senator Kemp Hannon (hannon@nysenate.gov) that proposes a not-for-profit contractor (i.e., NYAD) to take over administration of the NY Donate Life Registry and facilitate enrollment through its website using an electronic signature. NYAD would also be charged with stepping up the education about and promotion of organ and tissue donation to the general public. NY State Assemblyman Dick Gottfried (GottfriedR@assembly.state.ny.us) will introduce the legislation to the Assembly next week (13 May 2013).
Most of the states with the highest registration rates (60-75%) employ not-for-profit agencies to manage their donor registries. When Texas turned over its registry to Donate Life Texas Inc. in 2012, registration rates skyrocketed. They predict 8 million new registrants within 5 years and will soon surpass New York (in 2011, they had the 49th lowest registration rate at 7%, but no longer).
New Yorkers are good people. The vast majority of New Yorkers support organ donation. Yes we need more education and socially embedded "nudges" such as Lauren's Law (you will soon have to be asked if you want to register to be a donor when you renew your license at the DMV in NY), but we also need it to be easy to sign up. Please consider writing Senator Hannon and Assemblyman Gottfried a brief note to express your support of Bill S.5046. I'm getting ready to do so myself and I will copy Governor Cuomo, Lieutenant Governor Duffy, Congresswoman Louise Slaughter, and Assemblyman Harry Bronson.
Does anyone see a downside to trying to save lives?